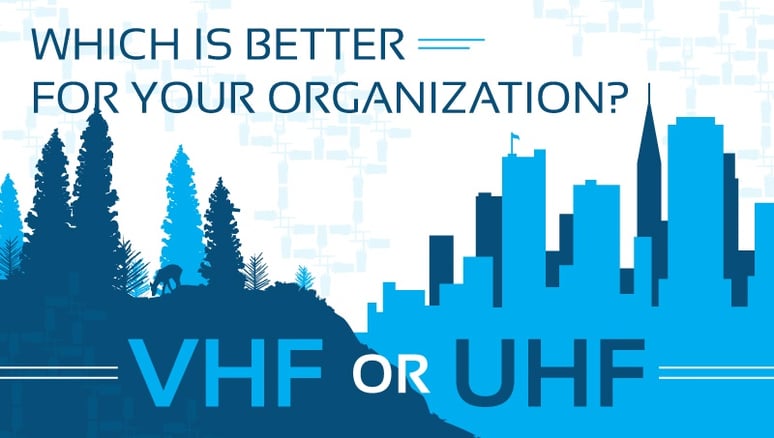 Understanding the difference between VHF and UHF two-way radios will prepare you to make an informed choice about which device is right for you. Fundamentally, VHF stands for "Very High Frequency" and UHF stands for "Ultra High Frequency." By the sound of it these options don't vary too much, but keep on reading to learn how the two are actually very distinct. Each one has its own pros and cons, and they each suit different needs.
UHF vs. VHF Two-Way Radios
VHF Radio (Very High Frequency)
The main difference between these two options is in the range of frequencies that they use. VHF radios offer a larger broadcast range, using radio waves from 30 MHz to 300 MHz. They unfortunately have less channels though, which can lead to congestion and interference from other nearby two-way radios. VHF radios have been around for much longer than UHF radios and are generally less expensive.
Very High Frequency two-way radios are ideal for the outdoors and across large areas, because they have a tendency for signal degradation in urban areas where there are many obstacles like tall buildings. They're also ideal in areas where there are not a lot of people, so they can operate with reduced interference. Generally speaking, VHF radios are better suited for industries such as agriculture and recreation.
SEE ALSO: 8 THINGS YOU MIGHT NOT KNOW TWO-WAY RADIOS CAN DO
UHF Radio (Ultra High Frequency)
UHF two-way radio waves don't travel as far as VHF radio waves, so they have a reduced range. However, they have a wider frequency spectrum, so they afford great coverage with little interference from other users. Due to the higher frequency that they operate on, UHF radios use up battery power more quickly so they're not ideal if workers don't have easy access to a charging station.
One of the biggest pros of UHF radios is that they do a much better job of penetrating barriers in urban locations, like concrete, steel, and wood. So this kind of radio is best suited for use indoors, including buildings with multiple floors, in industries such as manufacturing, distribution, education, retail, hospitality, and healthcare. They also work well for businesses that function in both indoor and outdoor settings, where there are a lot of surrounding buildings.
Now that you're aware of the differences between VHF and UHF radios, you can make an informed decision about which option is a better fit for your business needs. As you can see, each operational frequency comes with its own advantages and disadvantages. But overall, VHF radios are better for outdoor use in large areas, and UHF radios are better for indoor or outdoor settings that are in close proximity.