This year Vertex Standard celebrates 60 years in the radio business. The company's product line may have changed dramatically in those 60 years, but their mission remains the same...to achieve superior satisfaction by delivering products that exceed expectations. From their very first transmitter, to the VX-260 line that was launched just last year, Vertex continues to push themselves to produce innovative products that are affordable on any budget!
We want to congratulate Vertex on 60 years of success and share some of the milestones they have achieved since their inception.
The 60 Years of Ingenuity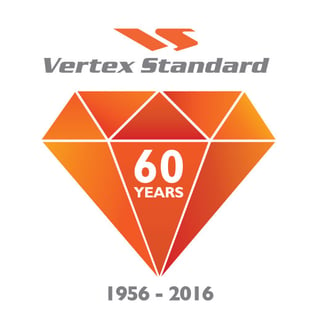 1956 - The company we know as Vertex Standard is born. It is initially known as General Television Service Co and is founded in Ota-ku Tokyo, Japan. Their goal was to improve signal strength and voice transmission in amateur radios.
1970 - Introduced the first solid state all-mode single unit HF station, the FT-101 which still holds the record for the best selling HF radio!
1991 - Publicly listed on JASDAQ
1999 - Acquired US Marine & LMR divisions of Marantz and moved company headquarters to Meguroku Tokyo, Japan
2000 - Officially changed name to Vertex Standard Co. Ltd.
2005 - VX-71000/72000 P25 mobile radios were introduced with Durable P25 Interoperability
2006 - Launched VX-P820 & P920 P25 Radio Series'. The P820 was the smallest submersible P25 portable radio
2012 - Vertex is acquired by Motorola Solutions
2013 - Introduced the first Digital DMR Series with eVerge EVX series radios, featuring the EVX-534
2015 - Launched the VX-260 Series, including the VX-261, which has quickly become one of the most popular series Vertex has to offer.
Vertex continues to deliver Professional Two-Way Radios that redefine the market. They believe in creating a product that is both durable and affordable. There is no question why many of our customers rely on Vertex Standard Two-Way Radios for their business communication, and it's because Vertex is constantly setting a higher standard by producing products that deliver value without sacrificing quality.
Congratulations Vertex Standard on 60 years of Success!