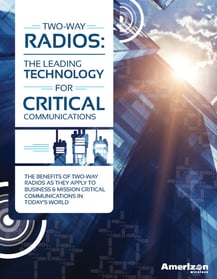 In many industries, having the ability for instant communication is absolutely vital.
The necessity and benefits of two-way radio communication may not be obvious to some. But in critical situations where time is of the essence, trying to transmit information via a phone call, text message, or email is just not fast enough. In these and a variety of other scenarios, two-way radio technology adds greatly to overall efficiency.
The range of very different organizations that use two-way radio technology, from schools to construction sites, all have one thing in common – their need for an effective mobile communication solution. Their employees are faced with an array of challenges during their daily operations, most of which would be made easier with the simplified, internal communication that two-way radios provide.
In this eBook, we discuss the many benefits of two-way radios and discuss how they can be implemented in your specific field of work. This will include a list of who uses two-way radios and for what purposes.
We will then touch on the basics of two-way radio technology, including how they function and the difference between digital and analog. Lastly, we'll share about how you can take advantage of two-way radios and utilize their many capabilities.
If you're curious about whether two-way radios are the right communication solution for you, download our free eBook, "Two-Way Radios: The Leading Technology for Critical Communications" to learn about the safety-enhancing capabilities of radios as well as the increased productivity they provide in the workplace.