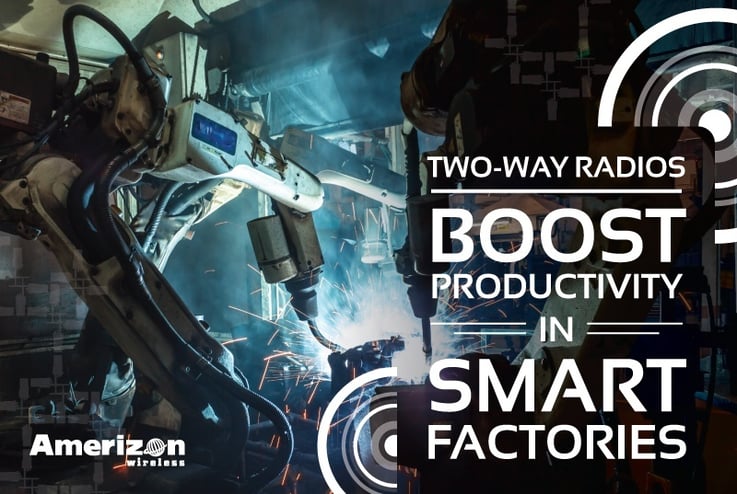 52% of U.S. manufacturing companies desire the capability for real-time messaging between machines and people.
The manufacturing industry is becoming more and more advanced with recent developments in automation technology and the Industrial Internet of Things (IIoT). What is the IIoT? This simple yet remarkable concept refers to the ability for machines to transmit important information to other machines, and it's transforming traditional manufacturing practices.
Connectivity between machines is one of the key ingredients of the modern day smart factory. It provides humans with real-time data that enables plants to optimize efficiency like never before. Two-way radios are one of the many devices that facilitate this kind of productivity-boosting communication within manufacturing environments.
How Two-Way Radios Enable Smart Factories
Advanced Connectivity Boosts Productivity
Recent research shows that smart factories can boost manufacturing productivity by up to 30%. In a highly competitive global market, manufacturing companies need as much of an advantage as possible to maintain their edge, and communication devices that employ IIoT technology provide just that.
When machines are linked to people with two-way radios, the production line moves faster, output quality is increased, issues are resolved faster, downtime is significantly reduced, and workers are able to use their time more efficiently.
Radios with IIoT technology improve the flow of real-time information within an organization so that every department can perform better, from management to maintenance. For example, smart factories experience a 70% reduction in breakdowns, and maintenance teams are able to move from reactive to proactive work in order to increase the life of equipment.
Managers in smart factories are able to better collect, analyze, and share real-time data that ultimately contributes to a company making better decisions. Connecting operations across a plant with two-way radios also enhances worker safety because of a machine's ability for site monitoring in an emergency situation.
SEE ALSO: TWO-WAY RADIO OR CELL PHONE: WHAT'S BEST FOR YOUR BUSINESS?
Smarter Devices Meet Manufacturers' Needs
A 2015 survey by Motorola showed that manufacturers are looking for a device that can aid in responding to equipment issues, tracking shipments, and remotely controlling lights or gates. Two-way radios can do all of the above.
Responding To Equipment Issues
Alarm and Control Systems allow you to check up on the status of machinery directly from a Motorola two-way radio. In case of an emergency, such as low oil pressure in line equipment, the plant engineer's radio will receive an immediate alert in the form of a text message.
Tracking Shipments
With Indoor Positioning System (IPS) functionality, two-way radios are able to locate the exact position of shipments, which can be extremely beneficial in manufacturing. IPS features provide real-time tracking data so you can never lose track of a shipment again.
Remotely Controlling Other Devices
Certain two-way radios can manage and control other devices. This function allows objects to operate autonomously while being monitored by remote personnel. Examples of its use can be activating a lighting system or opening a gate.
From the production line to the loading dock, two-way radios are helping evolve the modern day manufacturing plant to become more efficient and profitable. The IIoT has created smarter ways to work by providing insights that boost productivity across operations. With this technology that interconnects personnel and equipment, anything is possible.