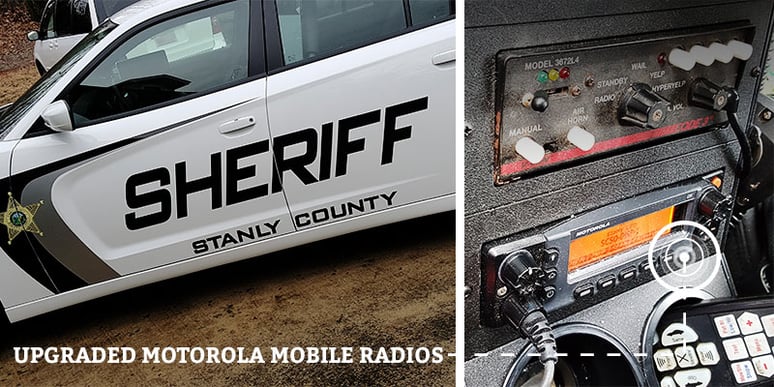 Stanly County Sheriff's Radio Installation Project
The Stanly County Sheriff Department recently purchased new mobile radios for their police vehicles. These radios then needed to be installed, and that couldn't happen while the vehicles were still on patrol.
That meant taking police vehicles off the streets so that these necessary upgrades could be made. This vehicle installation project had to be done quickly and with precise organization, and that is where our experienced Service Department came into play; more specifically, Mr. Scottie Honeycutt, who took point on this project.
Scottie is one of our most experienced installers, and our customers will vouch for us when we say, he is one of the best in the business!
Scottie worked with Captain Thomas of the Stanly County Sheriff's Department to make a detailed schedule for this large radio installation project. Keeping him informed on how many vehicles he would need for each day, and how long the installation would take. This let Captain Thomas keep an ample patrol active in Stanly County throughout the installation process.
Once the radio installation was complete, Captain Thomas had this to say about Scottie,
"I wanted to take a minute and let you know how much I appreciate the work of Mr. Honeycutt in installing the radios for the Stanly County Sheriff's Office. Mr. Honeycutt has been extremely pleasant to work with and is very efficient at his trade. He kept me informed as to how many vehicles he would need each day, and kept a schedule, that allowed me to keep our county covered during this transition. Thank you for assigning him to our project."
Captain Thomas is not the only one impressed by Scottie's work. His dedication and drive are inspirational to his colleagues, and he exemplifies what Amerizon is all about, putting our customers, our partners and our people first.
Thank you, Scottie Honeycutt, for the hard work you put into our company. Your work, and the work of our Service Department helps give our company it's stellar reputation. We look forward to seeing what customer you will impress next.