The most sleek, advanced, and professional looking two-way radio to date has just been released by Motorola Solutions and can now be purchased athttp://www.amerizonwireless.com. The brand new Motorola SL300 radio is not only great to look at but it offers a one-of-a-kind Active View Display that is actually hidden underneath the rugged body of the radio and is setting a new precedent in display technology. The Motorola SL300 comes in UHF or VHF, Non-Display with 2 channels and Display with 99 channels. Some of the features of the Motorola SL300 include active view display, analog and digital operation, Range Max for extended coverage and micro USB connectivity.
Motorola SL300 Features
2 channel / 99 channel Models
Active View Display (Optional)
Analog and Digital Operation
Dual Capacity Direct Mode
Basic Privacy
Priority / Dual Priority Scan
Lone Worker
Restricted Access to System
Uses MOTOTRBO CPS
Radio Management Capable
Range Max for Extended Coverage
Micro USB Connectivity
The Motorola SL300 offers a new patented antenna design and customized colored antenna ID bands that can be added for easy identification of the radio. Batteries can be charged in a single or multi-unit charger, or with a new portable Micro-USB wall charger. Enhanced range, lower maintenance, and louder audio mean that the Motorola SL300 will get the job done in any situation. The Motorola SL300 is engineered to have significantly better protection from dust and dirt due to its innovative design and is rated IP54. With Range Max the SL300 has extended coverage and better range. The Motorola SL300 comes in Analog or Digital which allow for use with current radio systems while still offering the latest digital technology.
Digital Advantages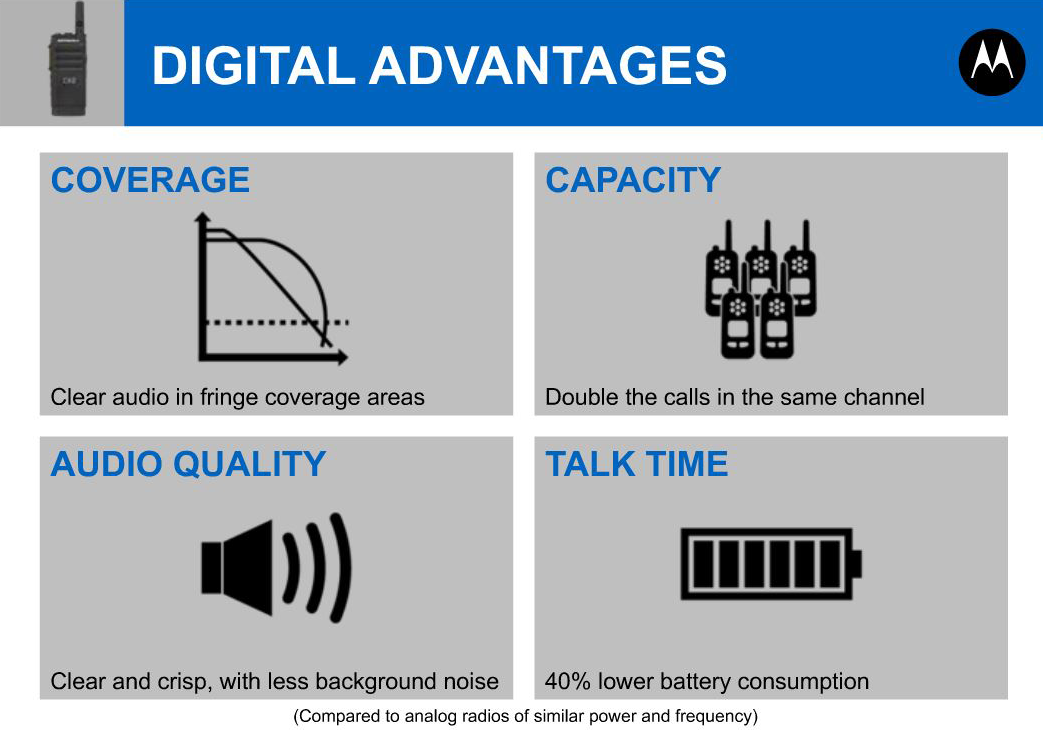 Digital radios give several advantages when compared to analog radios. Digital two-ways allow the user to maintain a signal and a clear digital signal up until the point where the signal cuts out whereas analog radios slowly diminish, get static and interference.
Another great advantage to Digital is the capacity of each specific channel frequency. Digital radios can handle double the amount of calls at the same time on a specific channel frequency. Audio Quality and battery life aren't bad advantages either. The clarity of digital is much better than that of analog radios and batteries tend to last 40% longer than analog.
With so many advantages of digital radio communication combined with the technology of the Motorola SL300, this radio is sure to please. The Motorola SL300 is quality engineered to perform better.
Designed to be a Better Fit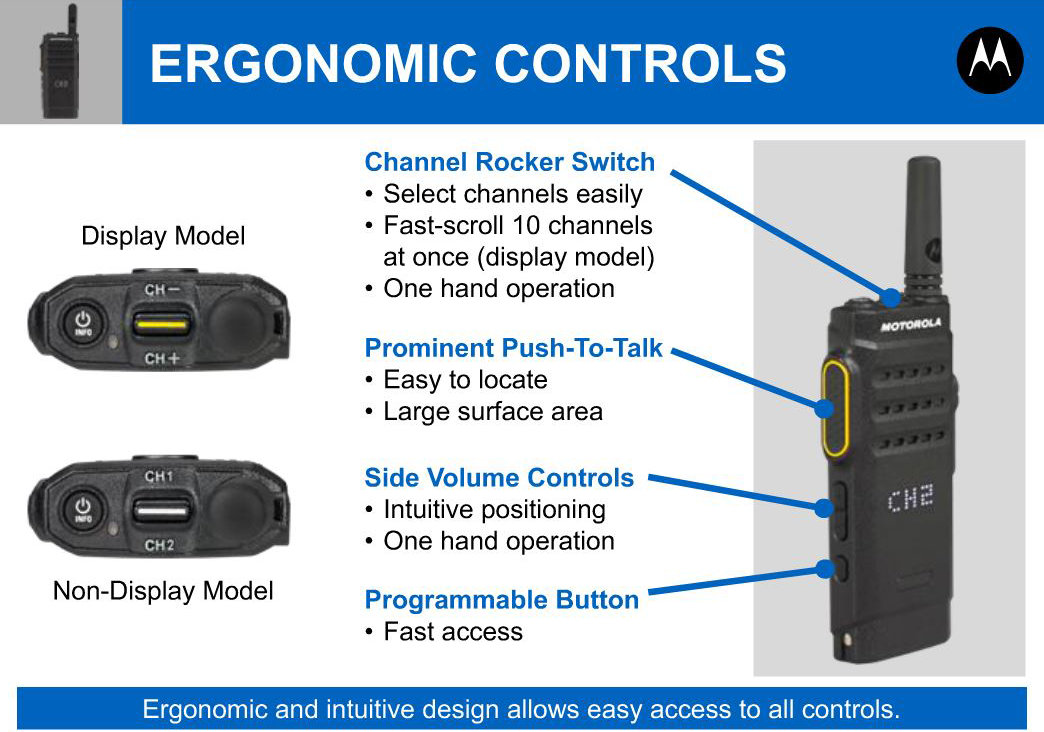 The Motorola SL300 is probably the most ergonomically, thought out design to date. The channel rocker switch isn't on the side or front anymore. Now the channel switch is located on top of the radio which makes it easy to operate this radio with one hand, select channels easily, and scroll quickly through up to 10 channels at a time (with the new Fast-scroll feature [display model only]). The push-to-talk is much more prominent with a larger surface area than in previous models which makes it easy to locate. Volume controls for the SL300 are positioned on the side kind of like a cell phone, again easy one handed operation (intuitive, thought-out design).
Overall the sleek design of the Motorola SL300 is pretty nice and the "fit" for this radio into many different industries is broad. Professionals of all kinds will love to use this little gem of a radio.
Checkout the Motorola SL300 radio now available for purchase.