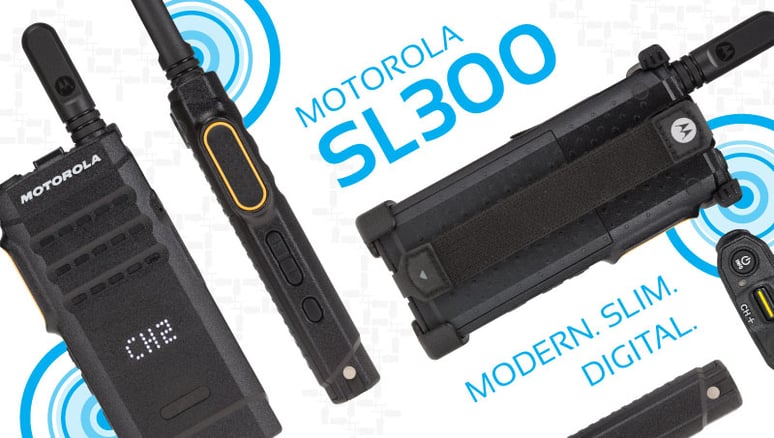 Two-way radios have been widely used since the early 1940's, but that doesn't mean the technology behind them hasn't changed.The introduction of digital two-way radios has brought new features and capabilities that have never been possible with radios before, like text messaging, dual-capacity and transmit interrupt, and traditional analog users are switching to digital to benefit from its advantages.
Click here for our 5 Reasons to Switch from Analog to Digital Two-Way Radios
One of the most popular and newest digital radio's is Motorola's SL300. As part of the exclusive MOTOTRBO line, the SL300 carries the top-of-the-line performance that you would expect from Motorola, with a new sleek look and digital features that are getting the communication world excited about using radios again.
ULTRA-SLIM, MODERN DESIGN
The SL300 is designed to not only work hard but to look good while doing it. It has a sleek, clean look that maintains a classy business appearance, but also runs a dead heat with modern device design.
At less than 1 inch thick, this radio is discreet. It's stubby antenna and curved edges prevent snagging the user on outside objects, and having a total weight of less than 6 ounces, means you don't even feel it on your hip.
DIGITAL / ANALOG CAPABILITIES
Many businesses today have well-established analog two-way radio systems, so they are hesitant when it comes to a full digital overhaul. A system overhaul can be a large investment, and investing in a new device can be risky.
The SL300 can operate in both digital and analog systems, so it can be integrated into existing analog systems and changed over to digital once it has proven it's worth and the transition to digital expands. This sets an upgrade pace that is both comfortable and budget friendly. Making the move to digital, a lot easier.
SIMPLE OPERATIONS
A big part of the SL300's design was not just a sleek look, but simple 1-handed operations. This radio has very few buttons and switches, which means simple user training and less user error. It has the power button and channel selector toggle on the top of the radio, and the volume controls and push-to-talk on the side. Making it easy to change settings and operate with just 1 hand.
ACTIVE VIEW DISPLAY
The risks of having a display on any technical device are the same across the board. They break easily and cost a lot to repair. This is why Motorola came up with the Active View Display that they feature on the SL300.
This display is actually housed inside the rugged skin of the radio so there is no glass or plastic to crack! It uses a matrix of LED's that light up within the main body of the radio to display notifications on channel selection and even battery life.
RANGE MAX TECHNOLOGY
The advanced technology and patented antenna design on the SL300 delivers enhanced range in a small package. Traditionally, a longer antenna was needed to achieve better range, but the innovators at Motorola have found a way to get similar range out of the smaller, more conservative antenna.
RUGGED & RELIABLE
This lightweights looks are deceiving. This rugged device boasts at IP57 rating for dust and waterproof operations. The SL300 was also put through Motorola's Accelerated Life Test, which simulates 5 years of hard service on the device; which it passed with flying colors.
MICROUSB CHARGING & PROGRAMMING
The SL300 uses a MicroUSB port for easy programming and flexible charging options. It is also designed with an additional charging point at the base of the radio if a single or multi-unit desktop charger fits your radio fleet organization more efficiently.
TRANSMIT INTERRUPT CAPABILITIES
This is one of the greatest safety features that the MOTOTRBO radio line offers.
With this feature activated, users can send out an emergency transmission that will cut through all other radio communications and broadcast as a priority message. Ensuring that urgent, potentially life-saving, messages do not get lost and go unheard amongst the standard daily radio traffic
VOICE ANNOUNCEMENT
With this feature, the SL300 allows the user to keep both eyes on job while being alerted to the operations and settings of the radio. Allowing them to continue working safer and more efficiently while giving reassurance that they are dialed into the correct channel.
The Motorola SL300 is one of the best radios available for someone looking to upgrade or begin their digital radio system. Whether it's the sleek sophistication needed for Hospitality and Retail, or the slim toughness needed for Manufacturing and Utility work, this radios innovative and efficient design brings the total package to you.
Check out our Motorola Technology - Then & Now Infographic.