In today's busy world, customers rarely take time to write with compliments. This letter, however, is the exception.
Mr. Marty Cayton
President
Amerizon Wireless
1211 Ireland Drive - Suite 1
Fayetteville NC, 28304
I've been an Amerizon Wireless customer for the past few years. Having recently completed another flawless transaction, I took a few moments to review your company website. As I did, I was impressed with how well my regular customer service contact, Jessica Rowe, aligns with your company Mission Statement. In every contact and transaction, Jessica has consistently proven herself to be a knowledgeable, reliable and trustworthy partner. The depth of her knowledge is exceeded only by the pleasantness of her demeanor and her eagerness to provide solutions to my needs. She is efficient, helpful and responsive. She takes responsibility find answers that are not readily available and communicates without delay. As stated in your mission statement, she provides solutions to our needs and does so in a very positive manner.
Thank you for ensuring, through Jessica, that we are well taken care of. I continue to rely on her for support and assistance, and am happy to refer you and her to those of my contacts who can benefit from your products and services.
Sincerely,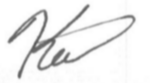 Kenneth A. Davidson
Executive Director
---
View the full letter at this link: temple_oheb_shalom_letter
---