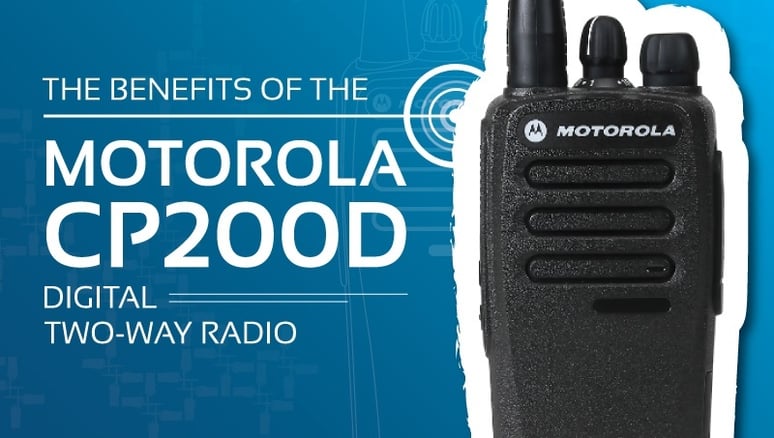 The Motorola CP200D is the new standard for business radio, replacing the popular CP200. The CP200 used to be one of the most favored radios on the market, up until July of 2013 when Motorola announced its new replacement model. Why did Motorola make the switch? Read on to learn about the many advantages of the CP200D, including its ability to function as either analog or digital depending on the user's preference.
The Benefits Of The Motorola CP200D

Upgrade To Digital At Your Own Pace
The CP200D can operate in analog and digital modes at the same time, and you can automatically switch between analog and digital calls. So if you prefer analog but are considering digital, you'll have the convenience of making the switch whenever you're ready, while retaining compatibility with your existing radio fleet. Migrating to the latest technology can be hard, but this radio provides a smooth transition with a simple software upgrade.
Better Audio Quality & Range
When in digital mode, the CP200D maintains high audio quality across your entire site, even while at the maximum range of your coverage area. With analog radios, the audio quality degrades as signal strength fades. Digital radios also have built-in noise cancelling filters for background noise, error correction that eliminates static, and automatic gain control that instantly adjusts volume for clear output, whether the user is shouting or whispering.
SEE ALSO: MANAGING BACKGROUND NOISE WITH TWO-WAY RADIO COMMUNICATION
Twice The Capacity
While operating in fully digital mode, the number of simultaneous conversations you can have is doubled on this radio. This is because the CP200D can be programmed two channels per frequency to fit twice as many calls into the same spectrum. Dual Capacity Direct Mode is considered advanced programming and operates without the use of a repeater.
Longer Battery Life
The Motorola CP200D has a 40% longer battery life than analog radios. With an average battery life of 12-14 hours, this radio offers reliable communication all day long. This feature offers an extra level of convenience for your employees and will help them gain even greater efficiency when you migrate to digital.
What Hasn't Changed From The CP200
Strength and durability

Easy-to-use design

Form factor

Voice Announcement feature

Works with all the same batteries, chargers, and accessories
SEE ALSO: 5 REASONS TO SWITCH FROM ANALOG TO DIGITAL TWO-WAY RADIOS
With the Motorola CP200D, it's easy to keep operations running smoothly as you transition your business to digital radio technology. Of all the two-way radios on the market, you can be sure that this model will integrate seamlessly into your existing communication system so your team can take advantage of all the advanced features that digital has to offer when your business is ready.