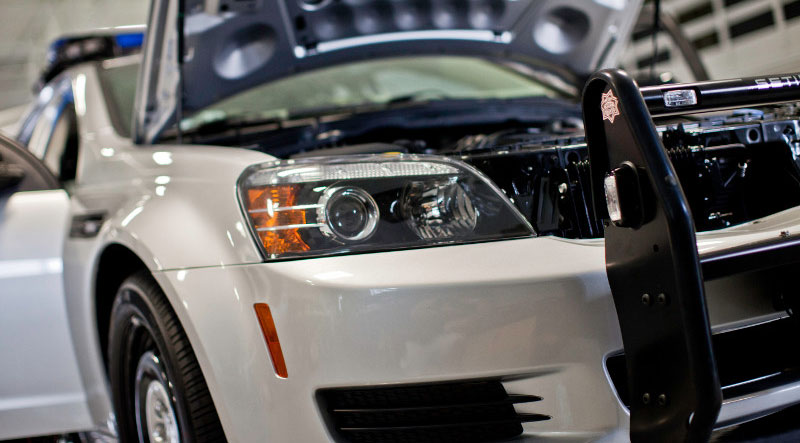 A Team Effort for the Hoke County Sheriff's Department
Recently the Hoke County Sheriff's Department decided to upgrade their mobile two-way radios for use with the Statewide VIPER Communication System and we were glad to be their choice for help with this project.
The VIPER system is a new communications tool that was built to improve interoperablility between Law Enforcement, Fire and Rescue on a statewide level. It is an expansion of a existing Motorola system, but does require upgrades to current two-way radio and dispatching equipment for agencies to use it.
The Hoke County Sheriff's Department realized the potential for improved response time, safety and wide-spread communications with VIPER, but the upgrade process can be daunting, and that is right where Amerizon Wireless came it!
We put three of our best on this job; John Briggs, Kevin Stultz and Nick Horne. All three of these men have been working with Hoke County for years and that relationship helped deliver a smooth process through all phases of this project.
Phase 1: Finding the Right Radio
"This process would have never gotten off the ground if not for your sales team headed up by John Briggs." said Chief Deputy Gary Hammond,"Sheriff Peterkin and I have been dealing with him for many years now. We find him to be very trustworthy and dependable."
John Briggs is one of our most experienced Technology Assoicates and finding the perfect radio is his expertise. He worked with Hoke County to find the radio that would meet their specific agency needs, fit within their budget and most importantly, get them on the VIPER system.
A Motorola Two-Way Mobile Radio was the ideal choice for them, and once that decision was made and the Sales Phase was complete, it was time to start planning the installation of these radios.
Phase 2: Installing 80 Mobile Radios
Our Fayetteville Service Manger, Kevin Stultz took the reigns for this phase of the project.
Eighty is large number of Vehicle Installations to organize and complete in a short amount of time, but Kevin is a pro and he has a long history with the Hoke County Sheriff's Department, so he knew exactly what they were expecting and which Amerizon Team member they would want to work with.
"...no one can install radios as well as Nick Horne," said Chief Deputy Hammond,
"I'm still puzzled at how fast Nick Horne was able to accomplish this huge task ... His work is clean, neat, and fast. Best of all, you don't have to bring it back for repairs any time soon."
Nick is one of our most experienced and efficient Installers. He is well known for getting the job done right in a short amount of time, and that is why he was the top choice for handling this large task.
The efforts of Kevin, Nick and the rest of the Service Department were detailed and quick; getting the Hoke County Sheriff's Department ready for the VIPER system.
Phase 3: Ensuring Ultimate Customer Satisfaction
Even though the radios have been purchased and installed, our job is not complete until the customer is satisfied with the work our team has performed, so we were excited when our President & CEO, Marty Cayton, recieved a letter from Chief Deputy Gary Hammond with the Hoke County Sheriff's Department.
The compliments Chief Deputy Hammond had for John, Kevin and Nick were gratious, and very appreciated, and his letter let us know that Hoke County was extremely satisfied with the outcome of this upgrade and impressed by the hard work of our team members.
"Mr. Cayton, you should be very proud of the team you have assembled and we look forward to many more years of doing business with you." -Chief Deputy Hammond
We want to thank John Briggs, Kevin Stultz and Nick Horne for the exceptional work they do for Amerizon and for our customers!