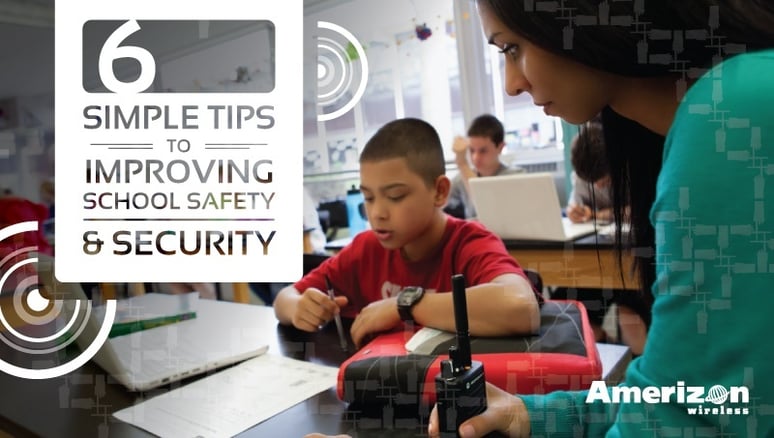 School safety should be a top priority of any school administrator, especially with the recent rise of hate crimes in our country. Schools need to be prepared to take on the threat of violence, terrorism, and especially natural disasters. The risk is too high to not be doing everything we can to protect our students. Here are the 6 best tactics we found to enhance school safety in order to prevent and manage crises on your campus.
Simple Tips To Improve School Safety
1. Inspect Your Campus For Opportunities To Improve
Surveying your facility is a crucial first step to enhancing school safety. You need to thoroughly check the ins and outs of your campus so you can discover areas that need improvement. We recommend checking the following areas every few months: fences, gates, locks, PA system, communication devices, cameras, lights, and emergency power supply.
2. Have An Effective Communication System
Communication is key to crisis management and resolution. Out of all the communication devices on the market, two-way radios are definitely the most reliable for schools in an emergency scenario. They continue to work despite overwhelmed cell phone networks, and also have text messaging capabilities if discreet communication is needed.
SEE ALSO: WHY TWO-WAY RADIOS ARE NECESSARY IN SCHOOLS
3. Use Teamwork For Coordination
Forming an emergency response team will keep your school organized in the midst of a chaotic situation. Create a designated team of staff who will each play different necessary roles in an emergency. Being coordinated in this way will ensure that you are able to respond as quickly as possible in the most effective manner.
4. Define And Make Your Plan Public
Create a policy that defines what emergency procedures will look like, then broadcast it to the entire school, including students. Knowing you've prepared a concrete, crisis management plan in advance will help your personnel and students feel safer. In addition, make sure students are aware of the kinds of behaviors that are not acceptable at school and why.
5. Hold Drills To Practice
Once you have set policies and procedures in effect, it's essential to see how they would play out in a simulated emergency situation. Frequent drills are the perfect way to practice your communication and teamwork, and to find out if any unforeseen obstacles come up. You may find that a certain employee doesn't know how to operate their radio, for example.
SEE ALSO: HOW TO EFFECTIVELY USE A TWO-WAY RADIO IN AN EMERGENCY
6. Focus On Relationships With Students
Administrative professionals and teachers should make every effort to get to know their students. Showing students you truly care about them, even the quiet ones who don't say much, will go a long way. You don't want any students to feel the need to get attention in a negative way. Learn more about early intervention and prevention, here.
By implementing each of these 6 easy tactics, your school will be on its way to becoming a safer community that parents feel good about sending their students to. And safer learning environments are a fundamental foundation for student success.