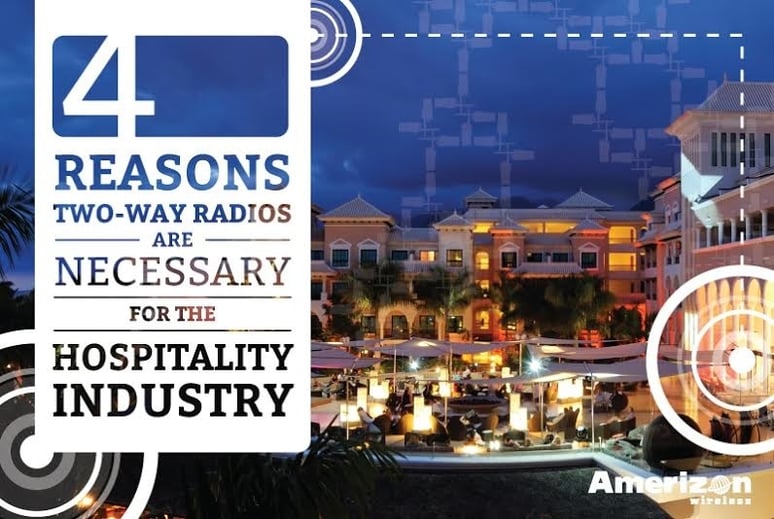 Two-way radios can be very beneficial for businesses in the hospitality industry for a variety of reasons. Restaurants, hotels, transportation companies, and even theme parks all require the kind of fast and efficient communication that radios provide. This efficient communication keeps operations running smoothly in the following 4 areas.
Security
One incident of crime at a hotel, or any hospitality operation for that matter, can ruin its entire reputation. So, the safety of guests should be a top priority. This is why running a top of the line security operation is absolutely necessary. Two-way radios greatly enhance security operations with their ability for instant contact and one-to-many communication. In case of an emergency, with the push of a button these functions enable security staff to get in touch with vital personnel ASAP, or send out an alert to all staff members at once.
Team Communications
Communication between team members is essential to keep things running smoothly in a restaurant, hotel, theme park, or other hospitality operation that involves a group of people simultaneously working together to serve guests. Two-way radios contribute to productive and successful team communications because they allow a group of people to constantly stay connected. This constant connection between staff enhances coordination, improves collaboration, and decreases resolution time in a conflict.
SEE ALSO: 8 THINGS YOU MIGHT NOT KNOW TWO-WAY RADIOS CAN DO
Maintenance Coordination
When a maintenance issue arises in a hospitality operation, it is very important that the issue is addressed as soon as possible. If it is not and guests are negatively affected by the disruption in service, they will most likely not be doing business again with the company. In case of an accidental spill or a breakdown of machinery, maintenance staff need to be within reach at all times. Speedily resolving maintenance issues reduces downtime, and for most hospitality businesses, time is money.
Customer Service
Customers in a restaurant can be especially impatient. When people go out to eat, the quality of their personal experience matters just as much as the quality of the food. In this generation of instant gratification, nobody likes to wait a long time to be seated and then even longer to be served. So in order to keep customers satisfied, employees have to be able to meet their needs and respond to their requests quickly. Two-way radios support this requirement for rapid communication that keeps customers satisfied.
These 4 benefits of two-way radios in the hospitality industry make workers more productive and business more efficient, ensuring that customers keep coming back. As you can see, the many useful functions of wireless radios save businesses time and money. They are certainly worth considering as a communication solution for your business.
New Orleans Aloft Hospitality Case Study
Aloft, a boutique brand within the Starwood umbrella, needed a communication solution for their New Orleans location. They had 4 main needs: to integrate staff communication with the StarGuest app, to respond quickly to guest needs to create a positive experience within a highly competitive hotel market, to effectively communicate through thick walls, and to be effective despite high levels of background noise at a construction renovation project.
Previously, Aloft New Orleans' staff had to carry two communication devices (two-way radios and tablets to manage StarGuest app communications). This was very cumbersome and inefficient. However, their MOTOTRBO radios became the solution to this impractical scenario. They began to use their MOTOTRBO XPR 7550 and SL 7550 digital portable radios not only for voice, but also for their data features to manage StarGuest app communications.
"It's a great feeling to walk into Aloft now and see all of the staff operating seamlessly, effectively and discreetly. Building a communication solution with multiple capabilities is fundamental for the hospitality business, and MOTOTRBO was the answer," says the Motorola channel partner.
Read the full Aloft case study here